Slim bezel LCD Video Wall
It is a mass communication display:
Some individuals may not know the importance of HD video walls because they have not used it before. It is a high definition LCD wall that works as a mass communication medium. It is a way of communicating with your prospects by endorsing every popular product of your firm through different screens. You can place the video wall in your restaurant, mall or in your business area. The prospects will pay attention to it because it looks appealing and attractive. A number of screens over the video wall can endorse a number of products simultaneously. There is no need to distribute broaches while you have a video wall.
You should invest in cheap video wall not only because it can lure your buyers, but also for better or advanced marketing and business plans.
Suppose, you are sitting in a lounge where the video wall is installed, you can bring every product on the screen to create a marketing plan for it.
It brings all of your products and services to the same screen within no time. You can talk about how business strategies will take place and how you will achieve the short-term and long-term goals of your business.

Choosing a right video wall:
The impact of video wall marketing can be a lot better than posters and other digital marketing techniques. Many companies are producing this digital product to lure the buyers. You should buy a video wall that offers high definition display with high brightness and high gamut. The narrow bezel design of our video walls is quite popular in the market. Felehoo is the leading digital display producing firm in the market, which provides high-quality products at very affordable prices. We provide video walls with advanced screen parameters that can offer stable operations. You can check further details and make a purchase now.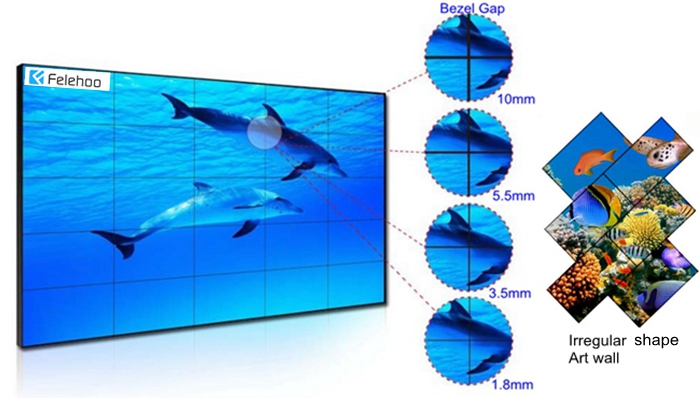 Check the normal bezel gap is about 10mm between 2 monitors,it is a 4X12 LCD Video Wall Monitors with floor stand cabinet.The monitor popular size is 40"/42"/46"/50"/55" optional.
Check the normal bezel gap is 10mm between 2 monitors,it is a 4X6 LCD Video Wall Monitors with wall bracket,special design for bar, hotel,KTV,stage etc.
Slim bezel LCD Video Wall
Displaying 1 to 11 ( of 11 products)
Sorted By