55" LCD Video Wall Monitor
Get a Video Wall to Streamline Your Marketing Schemes and Business Plans
For several years pin boards and posters have been used to educate the people about instructions,cautions and other things.Institutions use pin boards in their campuses to inform students about new rules,events and things.The companies also use the posters and pin boards for the same purpose. In several restaurants,malls and retail stores business owners apply printed posters to endorse new products and services.
The results of such traditional ways of sharing information are well known to us.We know that people do not pay attention to such details,but they will definitely get attracted towards a 9 screen video wall.
We are providing excellent choices in the video walls:
Sometimes it becomes really hard to choose the best product when you already have too many choices. Many leading electronic brands are producing video walls. All of them are trying to engage potential buyers with their products. At Felehoo, we are trying to represent the benefits of our 3x3 video wall so that buyers can better decide about the purchase. We are helping people in understanding the facts regarding these new ways of endorsement and promotion. People can better figure it out when they will get complete details on the pros and cons of a product.
We have several alternatives in top-class video walls.You can choose from many variants like 3x3 video walls and 2x2 video walls.It would be fairly simple to recognize that which video wall will suit your demands.Suppose,you are a marketing firm:a 2x2 video wall would be the best digital equipment to discuss business plans, product promotion strategies and business objectives. Many organizations have bought it from us and they have appreciated the quality and performance of our video walls.
Complete assurance of quality with affordable price:
Do you think investing too many bucks in video walls would be a drastic decision for your business? Well, it may be if you have no idea about the features and benefits of this product.A video wall is the best medium of mass communication.Just place it in the main hall or in the mall or any public area and start endorsing your products.People will pay attention to what you are endorsing.Similarly,the video walls can be used in many diverse ways in the business,institution and in the office.You should buy it if you want to see a beneficial change in your business.

This Monitors is designed to be an all-in-one solution to your video wall needs. It includes LCD displays and wall
mounts or floor stand bracket with over fame kit optional; IR,serial, and DVI/VGA/HDMI/DP cables; The included serial
and IR cables will offer control of all of the displays at once by daisy-chaining them together, while the included DVI/
VGA/HDMI/DP cables will allow your video signal to also be daisy-chained through all of the displays, simplifying your
setup process.

Multi-Screen System Dynamically Displays Images in Large Spaces
The Multi-Display function enlarges images up to five times their original size (For 3X3 video wall system),both vertically
and horizontally. It enlarges images by the same zoom ratio in both directions or by different ratios in order to effectively
use vertically or horizontally elongated spaces. LCD display versatility can be further enhanced by freely selecting the
zoom ratio to match the installation space.Felehoo supply optional 4K input signal controller matrix,which is a simple plug
and-play hardware solution with incredible 4K resolution support for full 2×2 video walls. Users can arrange content in
creative ways, offering unique flexibility by combining the abilities of a video wall hardware controller and a matrix switch.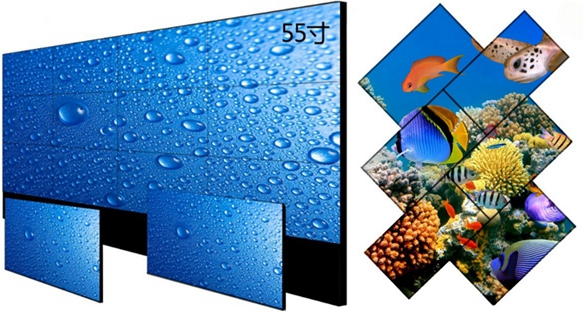 Felehoo Lcd Video Wall system is widely used for surveillance system video display,digital advertising,digital meeting system,public
information display and etc.The application places like Airport,Financial center,Subway station,Railway station,Bus station,Meeting
room,Hotel,Restaurant, Exhibition trade show,Shopping center,Market,Security surveillance system,Government office and etc.
55" LCD Video Wall Monitor
Displaying 1 to 10 ( of 10 products)
Sorted By