46" LCD Video Wall Monitor
Multi-Screen Video Walls – An Efficient Commercial Display Solution
A Multi-Screen Video Wall is a special multi-monitor setup that contains multiple computer monitors, video projectors, or television sets tiled together closely or overlapped in order to form one large screen. The screens precisely designed for use in video walls usually have narrow edges in order to lessen the gap between active display areas. Such screens often contain the hardware to pile similar screens together, together with connections to daisy chain power, video and command signals.
Due to the economics of manufacturing single screens which are unusual in shape, size, or resolution, multi-screen video wall is used. The advantage of using a video wall instead of a single large screen include the ability to customize tile layouts, better screen area per unit cost, and greater pixel density per unit cost. The typical display technologies include in video wall are LCD panels, Direct View LED arrays, blended projection screens, Laser Phosphor Displays and rear projection cubes.
Multi-Screen Video Wall is perfect for control rooms, stadiums, and other large public venues. Simple video walls can be driven from multi-monitor video cards, however more complex arrangements may require specialized video processors, specifically designed to manage and drive large video walls. Software-based video wall technology that uses displays, ordinary PCs, and networking equipment can also be used for video wall deployments.
Interactive video walls are useful tools for engaging an audience or collaborating with colleagues. For example, you can:
·

Create an effective, low-cost multi-display setup

·

Build interactive trade show demonstrations that encourage potential customers to learn more.

·

Help get students involved with an interactive display walls in learning environments.

·

Plan military strategy with the help of multiple touchscreens.

·

Involve museum visitors with a hands-on exhibit.

·

Build interactive way-finding kiosks with multiple displays to help people understand where they are now and how to get where they're going.

·

Create eye-catching dynamic digital signage installations to engage your audience.
Felehoo design multi monitor lcd video wall with cost effective solution to save your money.
· Samsung/LG/BOE and Other Industrial grade LED Panel,support 7X24 hours working.
· Narrow bezel monitor-The gaps between two panels is 0.9mm/1.8mm/3.5mm/5.3mm Optional.
· Featuring resolutions up to 4K UHD Optional.
· Full hardware structure,easy no PC/CPU operation system.
· Easy installation, fixed them together by metal bracket.
· Easy operation, we offer you free software to control.
· Multi display methods:Superimposed images / image drag function / Image Roam /combination display / single screen display.
Build a video wall with multi screen displays on wall for output,Multi media device for input,with network Matrix connecting diagram below: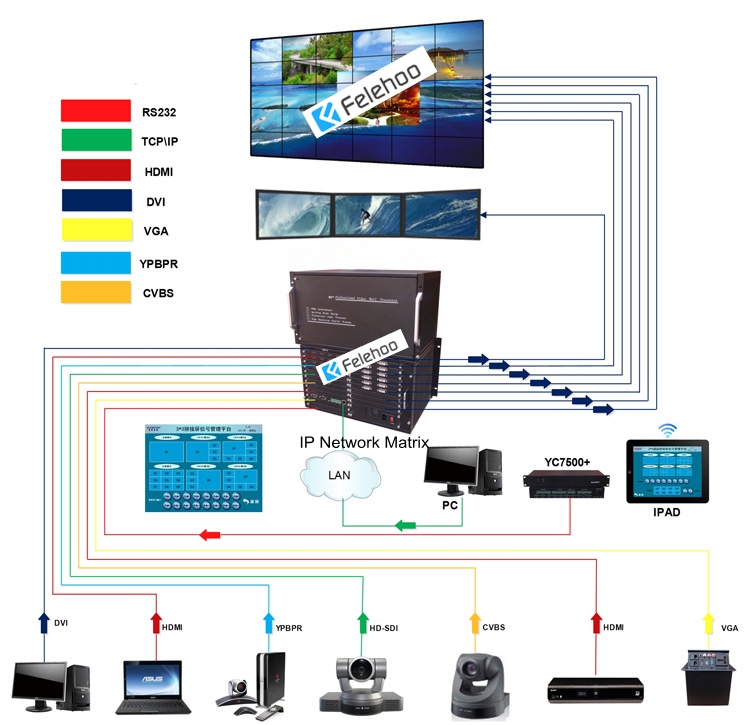 46" LCD Video Wall Monitor
Displaying 1 to 6 ( of 6 products)
Sorted By