Magic Mirror TV
Digital mirror is the perfect form of digital signage which offers various features wrapped in elegance and amazing Because of its sleek design, it can
easily mingle in any kind of retail environment. It can easily engage the visitor by its stunning and spellbound display. These magic mirror TV can
either promote or advertise your products in the best and most attractive manner that the viewer can't resist the urge to buy the same, irrespective
of your business line. You can make use of these digital mirrors from Felehoo at any marketing event, shopping malls, stores fitting room, hotel's
lobby, salons, cafes, airports, gyms, spas, retail stores and any place the customers visit frequently.
These mirrors can be mounted or hung without much legwork for installation, you just need to plug and play and let it attract customers for your
product. You can customize the working of the mirror based on your need or requirement. This smart mirror TV can play slideshows, videos, audios,
ads as well as other promotional messages. At Felehoo, you just need to ask and we can customize the various attributes such as size, design, etc.
depending upon the need of your business. The best part of this product is that it is within your budget, as we offer the most reasonable price.
Everyone in our operation, as well as manufacturing team, has a lot of experience and achievements under their belt regarding the technology they
work on. At Felehoo, we never compromise on quality or durability of the product. We believe in offering the best quality items at the most reasonable
rates to each and every customer.
Check more info from the video show --->>> Magic mirror display 32" lcd TV behind mirror

Check more info from the video show --->>> Smart magic mirror 21.5" lcd TV behind mirror with interactive touch screen

Magic Mirror TV (Basic Function)
It is Playing Media Files
• Auto plays the content or turns small video windows whenever somebody comes.
• The digital mirror offers multiple video content display options.
• It also supports HD 1080P Media Video files with the facility of Custom Content Edit.
• The software installed in the mirror allows you to display contents like Images / Video / Commercial / Infomercial.
o Pictures - In JPG, GIF, BMP and PNG formats
o Videos - In SWF, WMV, AVI, MPG and MPEG formats
• You can either use it for single screen display or split screen display, depending on your requirement. Both the options are available to you.
Auto Screen Sizing
The software installed in the digital mirror can access as well as detect the screen size and will automatically adjust the display based on the same.
The software ensures that the screen is appropriately utilized for maximized display in appropriate proportions.
Screen Display Logs
Logs related to software as well as screen display can be easily checked and viewed. Software logs include information about the numerous details
of the operation of the software. The logs cover Date / Time, other Functions and Description. To view the screen display log of your smart mirror
TV, click on the View Display Logs tab.
Scheduling Future Displays
The playlist feature helps you to plan ahead about what is going to be played next. You can schedule the content in 6 months advance which can be
displayed for the duration of 24 months from the setup date without any update.
Magic Mirror Waterproof TV (Professional Function)
Special Design for mirror and cabinet,Full Waterproof TV for Bathroom/Shower
High performance LED panel has wide angle views and assure comfortable movie browsing from any desired position. USB port support video / pictures/ audio playback from any USB disk or input signal.IP65 dust and waterproof grade guarantees stable and safe enjoyment for years. Build-in TV is equipped with waterproof ceiling mounted speakers and IP66 grade remote control.Rugged, waterproof, dustproof, vandal proof, resistant to damage.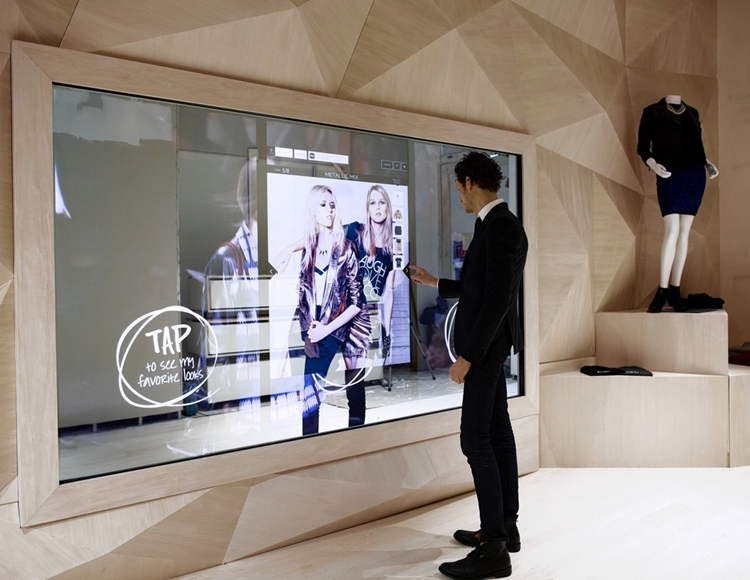 Magic Mirror Interactive Display (Top Function)
Body feeling fitting mirror for clothing shops with built-in camera could be controlled by gesture.
Magic mirror

Multiple functions, excellent mirror.

Accuracy touch

Sensitive touch, fast response, accuracy<1mm

Sleek

Extreme slim, fashion appearance, stylish

Cloud Management

Remote control, Cloud Management, For immediate release.

Rugged

Rugged, waterproof, dustproof, vandal proof, resistant to damage

Stable and secure

Stable, secure, reliable, working 24X7 times.

Interactive Multi-touch screen max 32points

Built-in Xbox 360 Kinect camera, body scan automatic

The Unique fitting intelligence software, to change the cloth by hand/gesture control

Support ONE-STOP service, try or change the clothes, online payment, take the photo to your phone by scan; simply, convenient
Magic Mirror TV
Displaying 1 to 6 ( of 6 products)
Sorted By