65" LCD Video Wall Monitor
Easy to operate and high-quality outputs:
LCD display screens excel in brightness and reliability, creating a stunning user experience in any location. Felehoo high performance
indoor LCD video walls combine all the advantages of LCD with best price and quality, performance and service. Thanks to the high
resolution support 4K, our new generation of LCD video walls can bring the advantages of the technology to applications beyond the
LCD markets.
It will make the process of discriminating the visions in front of very easily, as the gap will tell that the new screen has started. The
4k video wall can work 24-7 without malfunctioning. Not all the video walls can offer such high-class performance. We are committed
to providing the top operating digital devices. We have always tried to provide cutting-edge displays that can meet your needs and
perform operations in the best possible ways. So, view our products and make a wise decision of buying them.
LCD displays is the perfect solution for ultra high definition video walls. With a total of 3840×2160 (based on 2 x 2 configuration) and
the ability to take a single video source and display it across the entire video wall. It is an excellent choice for command & control
centers, corporate, AV and digital signage applications with multi input interface.

65inch with 4K resolution panel seamless bezel lcd Monitoring Display wall system and advertising tv screen built in splitter/matrix
from LCD Video Wall Display suppliers.widely used in shopping malls,bar,hospital,schools,banks,hotels,buildings,airports of advertising
and launching information.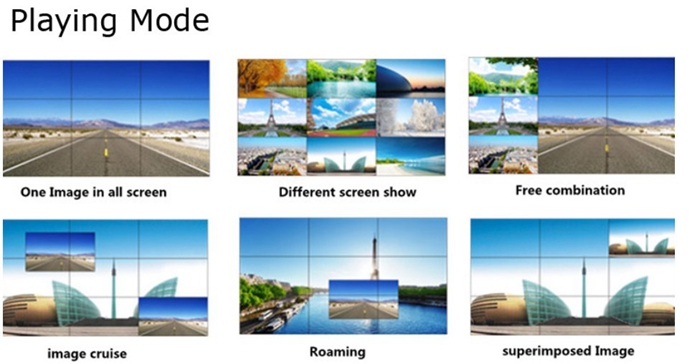 65" LCD Video Wall Monitor
Displaying 1 to 3 ( of 3 products)
Sorted By