Resizing Stretched Display
Panel Size(Inch)

19.1

28

28.8

37.2

Diagonal Screen Size

476.64(19.06inch)

710(27.95inch)

731.5(28.8 inch)

946.3(37.2inch)

Type

FH-LA191

FH-LA280

FH-LA288

FH-LA372

Active Area

476.64(h)*85(v)

697.7(h)*131(v)

697.7(h)*220(v)

930(h)*175(v)

Pixel

1920*342

1366*256

1366*430

1920*361

Dot Pitch

0.24852*0.24852

0.51075*0.51075

0.51075*0.51075

0.4845*0.4845

Display scale

16:3

16:3

16:5

16:3

Contrast

3000:1

4000:1

3000:1

4000:1

Brightness

(Sunlight readable is optional for outdoor)

500-1000cd/m2

700-2000cd/m2

700-2000cd/m2

700-2000cd/m2

Pixel Arrangement

R.G.B Vertical Stripe

R.G.B Horizontal Stripe

R.G.B Horizontal Stripe

R.G.B Horizontal Stripe

Display Mode

TN Mode,Normally white

Normally Black

Normally Black

AWVA3,Normally Black,Trans-missive

Response Time

5ms

6.5ms(Type,on/off)

6.5(Type,on/off)

6.5(Type,on/off)

Input Voltage

5.0V

12V

12V

12V

Electrical Interface

Dual channel LVDS

Dual channel LVDS

Dual channel LVDS

Dual channel LVDS

Display Color

16.7M(RGB-6bit+HiFRC)

8bit,16.7Mcolors

8bit,16.7Mcolors

8bit,16.7Mcolors

Power Consumption

Updating

Updating

Updating

Updating

Weight

3.7KG

4.5KG

4.5KG

5.2KG

Operating Temperature

0?-50?

0?-50?

0?-50?

0?-50?

Storage Temperature

-20?-60?

-20?-60?

-20?-60?

-20?-60?

Screen Dimension

508*121*47mm

735.5*163.5*43mm

733*255*28mm

963*212*48mm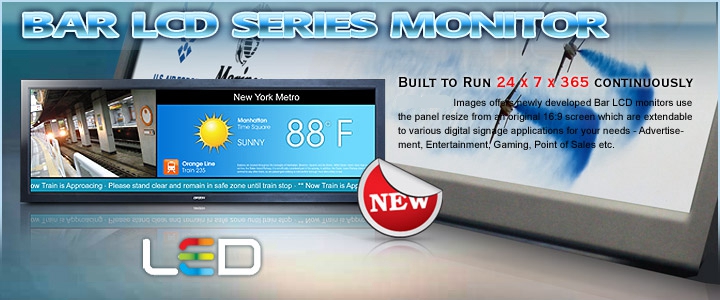 This Bar Type Display,resizing lcd display,Ideal display for public access venues,Customized sizes,ultra stretched panels for Transportation, Automation and vehicle integration gaming and wayfinding style? offers an innovative
and fresh approach to grab the public's attention.
Its engaging content with wide screen, stretched, rectangular design to make two monitors become one because you can divide and
organised the advertisements and passenger.
Features:
1.Split screen play: the screen can be divided into 2 regions, or 3 regions, it can be used to simultaneously broadcast video and picture.
2.Support scroll caption (subtitle color, background color are optional).
3.Play mode can be set: support BGM mode(background music which can be set to automatically boot when turn on), support all loop play.
4.Auto-play when turned on with the cards/USB inserted.
5.Support 16 kinds of photo switching modes.
6.Super timing function, 24 hours per day, no need for personnel management.
7.Convenient program updating technology: Program or content can be easily update through USB2.0 interface. One key copy.
8.Play time: picture play time is adjustable.
9.Show time: time can be adjusted, can display on the screen.
10.Remote control, easy operation.


Resizing Stretched Display
Displaying 1 to 4 ( of 4 products)
Sorted By