Outdoor Digital Signage
When it comes to business advertisement,people talk about big advertisement sources like television, radio channels, newspaper ads and the internet, but the thing that they often ignore is outdoor digital signage.
Many of you may question the relevance of outdoor digital signage for advertisement. Outdoor digital signage can be a great source of attracting sales opportunities. Just think yourself, when you go to market and you see a store with highly attractive digital signage, how you feel then. Undoubtedly, you want to go inside and see what is there for you. What else is the motto of your advertisement campaigns? They aim at driving people to your shop and make people purchasing. The same is the condition with digital signage as well. In the evening, when awesomely designed digital signage will spread its shine in the market, automatically, people will get attracted towards it. If hundred people are influenced by the signage and 20 of them come to store, I think your campaign is successful since market is quite competitive and driving sales opportunities has not been remained easier.This ratio would not be bad;you also know this very well. The best thing about digital signage is you can take your sales offers to your target audience in a very impressive manner through them,which attracts those people who are always in in search for better sales offers.
As you have understood how helpful outdoor LCD display can be for your business,do not waste your time anymore,and start your search to obtain high quality digital signage that can steal the attention of everyone in the market.
Where can you find the best quality digital signage for your business? This question has lost its relevance now since you have already reached the right place.We provide high quality outdoor LCD displays as per your specific requirements.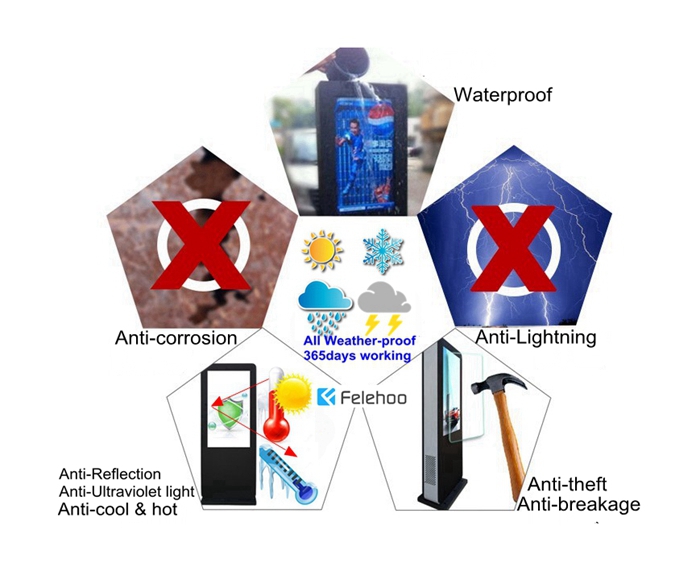 Why Our Outdoor LCD Displays?
1. IP65 Outdoor enclosure,zinc coated steel ,waterproof, anti-dust,anti-vandalism ,anti-reflection.
2. High brightness, up to 2000nits, resolution 1920*1080.
3. Ambient temperature -40°C to +55°C.
4. AR bonding,TM glass,anti-glare and insulate 99.9% UV,prevent the panel damaged by UV under sunlight.
5. Intelligent air-condition,integrated cooling and heating.(optional)
6. Adopt patent thermal technology.
7. Ambient light sensor,auto dimming,With light sensor,automatically adjust the brightness.
8. LCD will not turn black under direct sunlight.
9. Electronics:Security electric circuit design,anti-Lightning.
9. Customized design is acceptable. Size from 22"-110" for each screen/Large video wall is not limited.
10.Floor stand mount/ Wall mount/Mobile bracket.
11.Built in Mini PC hardware and windows / Andorid OS /Linux OS
12.Digital signage management software -Remote controll and update by WIFI/3G/4G network
13.Multi-touch screen and large video wall screen is optional
This outdoor digital signal could be used for large screen lcd video wall system and touch screen solution for road/map inquiry system
Felehoo outdoor Digital Signage for Advertising promotion on walking street, District,digital park.It has waterproof LCD advertising
displays for raining day,snow day and summer hot days for 7days/24hours/365days working.It also has anti-theft function safety.
Outdoor kiosks have digital advertising solutions for retail shopping centers,restaurants,digital posters,and video walls. Felehoo offer a
variety of options for display and digital signage in harsh, industrial, public or outdoor environments.
Outdoor Digital Signage
Displaying 1 to 13 ( of 13 products)
Sorted By