Service Online

Skype Call Me!

What's App Now!

+86.13714833789

sales@felehoo.com
Product Details
Specifications
FAQ
The high density displays are heavily used in advertising media in signage industry. They are usually marked by their shapes. Some common signage shapes are rectangular, circular and triangular, to display general information, or prohibitive instructions, or warning signs to the public. These display signs cost as per their sizes.
With a wider reach to its audience, digital signage is a powerful way to display messages for the public.
With proper placement and good quality display, the outdoor signage advertises in digitized manner and creates huge revenues owing to the large sum that this billboard work asks for. Not everyone can utilize them since they are expensive and the installation requires shaking hands with the bureaucracy. You would need an effective teaming up with the vendor to sail through this smoothly. You would also need a better understanding of the various cost components to make it available to the audience in the desired way. The signage reaches to large audience and hence its color scheme needs to be done very carefully. Digital displays can be tricky, and hence expertise is must while creating the displays.
The outdoor signage also comes as touch screen, with multi touch feature, is easy to install, as the reports say, its removable and replaceable and can be attached to almost any surface, like Glass, Acrylic and Rear projection film or any other non-metallic material.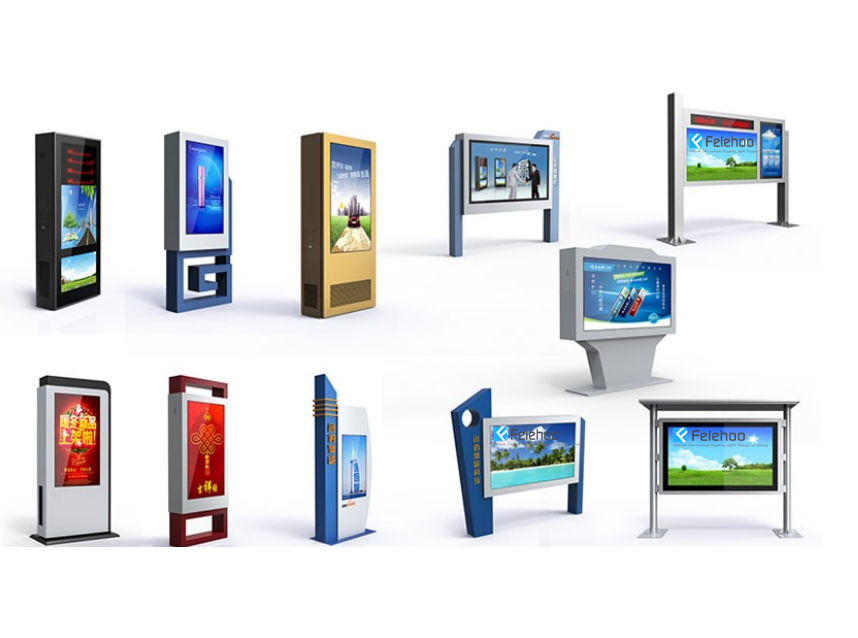 75 inch outdoor lcd digital signage player(FH-KO750A) is a LCD Display with an integral media player, Media files are stored and played back from USB or SD memory card. When you boot the machine up, it would auto read those files.
(video/photo) from memory card simple one. Plug-and-Play, that is, If you plug memory card into the card slot, the screen will auto display video or photo.
Outdoor display screen on a sun-readable LCD should be bright enough so that the display is visible under strong sunlight.
1, Function introduction:
Ads updated type

USB copy by manual operation

Plug-and-Play

Plug-and-Play / No windows

OS, Auto loop play when power on




Playback Mode

Repeat one/all,choose to repeat playback one file or all the files

Daily timer switch

Power ca

n turn on/off automatically at the designated time every day

Play logs

Auto generate all detailed play record in memory card

Photo slide show

The interval time can be adjusted,5s/10s/

15s/30s/45s/60s/120s/180s/250s is optional

Date-time display

Built-in Clock and Calendar, After you setting up date and time,the media play can show them

Scrolling marquee

You can set up background color,font size and how fast marque scrolling

Timing function

It can create five sets of timing periods a day, settable in a week(7 days) with 24 hours unmanned management

DIY Boot Screen

User can use any JPG picture files as boot screen,or even video capture. This item is optional.

Logo Display

User can make a JPG picture(240X240 pixel) of own Logo, the upper left-hand corner of screen will show this logo when play video or photo

Playlist Function

We can offer you playlist software, you can edit and rang those ad files which stored in memory card, it will automatically play them one by one in the specified order.

Advertising spots

Some one advertisement(like your company promotion video) can auto insert into the one which is

currently playing video ads, you can set up the interval time, such as 10 minutes or 20 minutes.

Split-screen

Free to split screen ,many mode to select (options are full screen ,two split screens,three split screens and so on ) according to your needs

Break point memory

Enabling resumption of playing the present playing content on break point memory which the machine automatically recorded in case of breaking

Time Volume

User can set up different volume at different times, different db volume for morning and night separately, or holidays and Special occasions.

Anti-theft lock

It can prevent U disk and broadcast content from theft; At the same time, the content can be encrypted.

Scratch-resistant

Screen surface with ultra-thin, high-transparency toughened glass or acrylic protection layer to protect the LCD screen from artificial damage

Installation




Standing ( An optional that we can install wheels to make the machine more mobile unless you need )



Product model

FH-KO750A

Screen Panel Size

75"




Backlight type

LCD panel with LED back-light

Brand

Felehoo

Aspect ratio

9 : 16

Resolution

3840*2160 (UHD) 4K

Visible Area(mm)

1649.66(W)×927.936(H)

Dot Pich

0.807(H) X 0.807(V)

Brightness

2000cd/

M2 (optional)

Viewing Angle

Full Viewing Angle

Contrast Ratio

2000:1

Number of colors

16.7M

Response

Time

8ms

Input Voltage

AC 100~240V

Power Consumption

340W

Audio O

utput

Built-in min speaker ( 2 x 5w)

Life

60,000hrs

Dimension(mm)

1920 X 805 X 90

Net weight

150kg

Installation

Standing

Input card slot

2 X USB2.0 (HDMI/VGA is optional)

Storage Media

Default USB flash disk 16GB

(

optional)

Download Media

Auto copy from USB

OSD Language

Chinese,English,French,Russian,German,Italian,Spanish,Japanese

etc.

Display Effect

Support 1080P Full HD Video/Picture Display

Support

Video F

ormats

AVI,MPEG1,MPEG2,MPEG4,VOB and DIVX(5.0/6.0)

Support

Audio Formats

MP3

Support

Photo Formats

JPG

Support Documents F

ormats

TXT

Operating system

Plug-and-Play / No windows OS, Auto loop play when power on.



What is Semi outdoor lcd digital signage totem use?
1.Business Organizations Supermarket, large-scale shopping malls, exclusive agency, chain shops, large-scale sales, star-rated hotels, restaurants, travel agencies, pharmacy; 2.Financial Organizations Banks, negotiable securities, funds, insurance companies; 3.Non-profit Organizations Telecommunications, post offices, hospital, schools; 4.Public areas Subway, airports, stations, gas stations, toll stations, bookstores, parks, exhibition halls, museums, convention centers, ticket agencies, HR market, lottery centers; 5.Real Estate Property Apartments, villas, offices, commercial buildings, model rooms, property brokers; 6.Place of entertainments Cinemas, theaters, fitness halls, clubs, country clubs, massage rooms, bars, cafes, Internet bars, beauty shops, golf course.
What benefits you get of using semi outdoor lcd digital signage totem as marketing tools ?
1, Use lcd Advertising Display to your advantage by having your customers promote your company.
2,Your customers share your products promotion information.
3,Strengthen your brands image
4,Increase in-store and online traffic via word of mouth advertising.
5,Increase customer loyalty.
6,Use your Advertising Display as advertising to promote brands and drive new additional revenues for your business.
Felehoo Advertising Display is the way forward for customer communications in the 21st Century.
Felehoo Advertising Display allow you to get your message to your customers at exactly the point where they are most likely to make purchasing decisions, at precisely the most effective time in their shopping experience. So your profits go up as your costs go down!
It can be used for, but not limited to, the following purposes:
1) Play private wealth management products advertisements when placed on the Bank;
2) Play advertisements / public information when placed on large-scale shopping mall ;
3) Play advertisements / public information when placed on the star-level hotel hall;
4) Play advertisements / public information when placed on metro station;
Used in different public areas, such as hospital, school, waiting hall etc.
Which size of semi outdoor lcd digital signage totem do you have?
Now, The screen size includes:
32"/42"/46"/50"/55"/60"/65"/75"/84"/98"
Why choose felehoo semi outdoor lcd digital signage totem ?
1. Shortest time. We always try our best to respond your inquiry fastest, which is really very helpful for solving your problem at any time and get 5-star after-sale service;
2. Cost-effective. Felehoo not only provides good quality products, but also takes saving your cost into first consideration to provide our most professional suggestion to help building and maintaining our long-term business relationship;
3. Language advantages. All of our sales get very good English communication ability, they are all able to speak and type fluent English, guarantee smooth talking or Email communication, cooperate effectively with us;
4. Quality Guaranteed. All of our Felehoo products use top quality materials, finished products 1 year quality guaranteed;
5. Save your dollars. We cooperate with several very professional forwarders, for saving your shipping cost a lot, together with good price advertising player products.
6. Providing ability. 7~15 days manufacture time, fast leading time, best after-sale support;
7.OEM/ODM service. We have engineers, professional team for your OEM service requirements.
Customers who seen this item also seen