Service Online

Skype Call Me!

What's App Now!

+86.13714833789

sales@felehoo.com
Recently Viewed Products
Product Details
Specifications
FAQ
Mesmerize audience with bright and visually appealing Outdoor LCD Displays
Never worry again about displays being too dim during the day or too bright at night with our Outdoor LCD Display.Rain or snow, dust and dirt, our LCD Displays are 100% protected from such environment elements.
43-inch, 55-inch, 65-inch ,75-inch,84-inch screen diagonal, the outdoor LCD displays are available in several sizes. The Outdoor LCD Displays are dustproof and waterproof, and can be operated at variable temperatures. Since they can reproduce both still and moving images at extremely high resolution in full HD, these are suitable for use as advertising panels or digital posters.
At the same time, each LCD display is robust and still guarantees reliable performance even it is required to run more or less continuously for instance at business sector, retail stores, banks or insurance companies. The display is ideally suited for use in shop windows and showcases.
The Protect Display is available in stainless or powder-coated steel. It offers full HD resolution and an optimum brightness of 700 nits. Its striking technical features also include a very large 10-bit color space. So whether the preferred format is landscape or portrait, our Outdoor LCD Display always shows off its best side.
Our outdoor LCD displays typically consume less power. This is done with the help of energy efficient cooling system and high-efficiency LEDs that are adjusted based on the active content on the display. This also improves visual image quality in all lighting conditions as dark colors and blacks look much deeper, providing a noteworthy boost to contrast ratio. And because providing power to displays can be challenging in some environments, all displays are designed to run off on a single amp circuit.
From the technical perspective, a protect display is the same as a public display, but it also features anti-reflective protective glass and a considerably more sturdy casing. As a result, this kind of display can also be suggested for use in extremely harsh environments. An internal PC can also be integrated directly into the casing which is optional.
50inch Outdoor Kiosk Advertising Media Player(FH-KO500A) is a LCD Display with an integral media player with super high brightness max.3000nits,sunlight readable LED backlight , Media files are stored and played back from USB or TF memory card. When you boot the machine up, it would auto read those files(video/photo) from memory card simple one.Special design for outdoor use.
Felehoo also supply the display for wall mount bracket for semi-outdoor use,non-waterproof but with sunlight readable function.LCD screen size from 32",42",46",55" very popular in the market.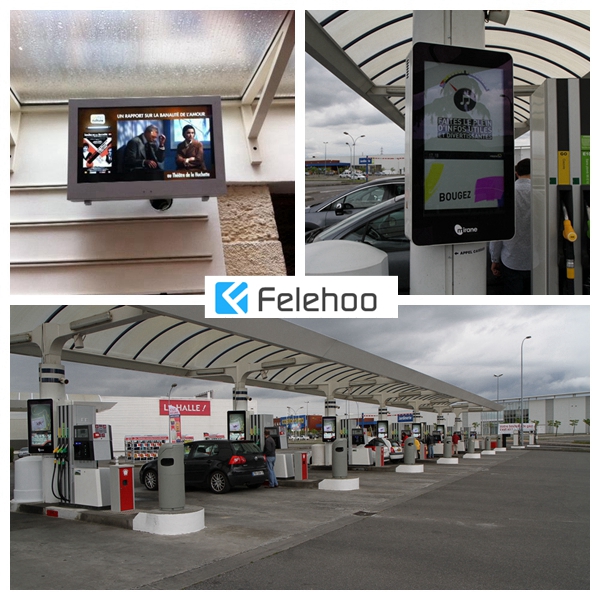 LCD Panel With LED Backlight Features:
High bright Panel 1500 (Optional 2000cd/m2)
Adopt LED backlight,environmental friendly and energy saving
Direct LED backlight and Low power consumption
Support HD image,resolution 1920*1080
With light sensor,automatically adjust the brightness
LCD will not turn black under direct sunlight
Keep 7*24 hours continuous ruining without bright attenuation
Intelligent light system, brightness of screen auto adjusts according to environment light, saving energy.
Brightness Control: automatic optical sensor systems
Build in power timer
---
The Function of Network Media Player:
Support remote control via internet(wifi/rj-45/3G/4G network)
Support remote renew programs from internet
Support video, flash animation, images and text mix broadcasting.
Video truly seamless playback
Support rich display resolution 1920x1080
The default program broadcasting
Broadcast specified programs on specified date and time
Automatically deleted overdue program
Program insertion, broadcast emergency major events
Make encryption and authentication for playlists and program material, refuse illegal program broadcast.
Pre-set independent password by grouping
Certificate U disk, only authenticated program can be imported.
Support Chinese, English and other multi languages
Support switch between both horizontal & vertical display mode
Support switch between full screen and split display mode
Both horizontal & vertical display mode support full screen and split display mode
Can realize scroll marquee play, smooth scrolling, without pause
Support timing turn on/off, timing switch, manually operating mode
Support timing switch
Support 2 independent timings everyday
Support set up 7 days a week , also support set up according to the daily management
Support U disk & flash, import playlist and program material file
Configure terminal parameters and update the software by U disk
Terminal works log
Switch time record
Remote control record
File import and software update record
Terminal log abnormal record
Broadcast record log
Fully record program broadcast date, time and broadcast times
Export log files by the terminal ID and date to the U disk
Support retain logs up to 1 month, automatically deleted the log files beyond this time
Product model

FH-KO500A

Screen Panel Size

50"




Back-light type

LED

Brand

Felehoo

Aspect ratio

9 : 16

Resolution

1080 X 1920

Visible Area(mm)

585 X 1040

Dot Pitch

0.484(H) X 0.484(V)

Brightness

1500cd/m2

Viewing Angle

Full Viewing Angle

Contrast Ratio

1000:1

Number of colors

16.7M

Response

Time

8ms

Input Voltage

AC 100~240V

Power Consumption

<240W

Audio O

utput

Built-in min speaker ( 2 x 5w)

Life

60,000hrs

Dimension(mm)

1840 X 785X 150

Net weight

80kg

Installation

free Standing

Input card slot

2 X USB2.0/RJ45/HDMI/TF card slot/Audio output

Storage Media

8GB TF card

Download Media

Auto download via wifi network

OSD Language

System supports All languages

Display Effect

Support 1080P Full HD Video/Picture Display

Support

Video F

ormats

Rm/rmvb/avi/mpeg/mpg/dat/mov/asf/mtv/mkv/wmv,3gp/amv/dmv/divx etc

Support

Audio Formats

mp3/wma/wav etc

Support

Photo Formats

jpg/gif/png

Support Doc F

ormats

word/

excel/

pdf

/txt

Other files formats

RSS news, flash, dynamic webpage



A. Our Software System Feature :
1) Central management
Adopt B/S structure,no need to install clients,user can open the IE browser to login the management
software to do any operation from any computer.

2) Split screen function
Users are able to define layout in the software,Drag and drop the zone and the size of the video,flash,ppt,scrolled message, support to set the scrolled message font,size,colour,background color,scrolled direction left, right, up, down. System comes with calendar clock module, weather module, program template, support for self-designed templates, provides thumbnail feature, what you see is what you get.
3) System Compatible ability
Support most of the video format: rm/rmvb/avi/mpeg/mpg/dat/mov/asf/mtv/mkv/wmv,3gp/amv/dmv/divx etc), audio(mp3/wma/wav etc), picture(jpg/gif/png), word/excel, pdf, RSS news, flash, dynamic webpage.
B. Software management Function components :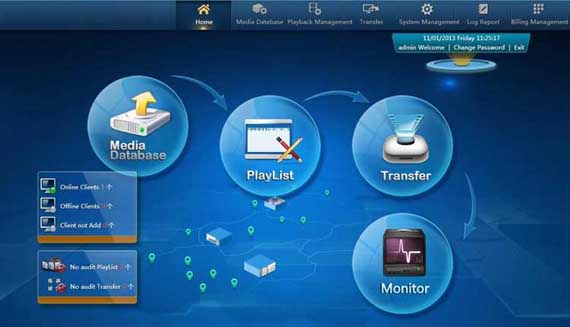 1) Media database
Audio, video, picture, TXT, Flash, PPT, Word, Excel, PDF,Web, Weather, RSS, Shot screen
2) Playback management
Program making,editing,management,import/export,playlist/schedule management;
3) Client management
Remote monitor,contents transfer,time synchronization,volume adjust,download speed limited,auto
power on/off,remote control,touch management.
4) System management
log report,status,modify the password,user authorization,client audit.
5) Other functions
Appoint the user authorization,client audit,password modify.
What is Semi Outdoor Standing Advertising Display?
Felehoo display is a form of electronic display that shows information,advertising and other message. Advertising Signs(LCD panel with LED back-light high brightness,special design for outdoor use) can be found in public and private environments,such as retail shopping centers, restaurants,hospitals,car parking,bus/train station etc which is no raining or snow be covered.
Advertising using digital signage system is a form of out of home advertising in which content and
messages are displayed on digital signs with a common goal of delivering targeted messages to
specific locations at specific times.
What benefits you get of using Standing Advertising Display as marketing tools ?
1, Use lcd Advertising Display to your advantage by having your customers promote your company.
2,Your customers share your products promotion information.
3,Strengthen your brands image
4,Increase in-store and online traffic via word of mouth advertising.
5,Increase customer loyalty.
6,Use your Advertising Display as advertising to promote brands and drive new additional revenues for your business.
Advertising Display is the way forward for customer communications in the 21st Century.
Advertising Display allow you to get your message to your customers at exactly the point where they are most likely to make purchasing decisions, at precisely the most effective time in their shopping experience. So your profits go up as your costs go down!
And Advertising Display can make your communications more efficient, deliver a return on investment and make for abetter customer experience.
Where standing LCD Advertising Display can be used?
Standing LCD Advertising Display are perfect digital advertising display at retail points and public locations where you want to display your digital advertisements repeatedly, and don't require changing / updating your advertisements content frequently.
Standing LCD Advertising Display can be used for, but not limited to, the following purposes:
1) Play private wealth management products advertisements when placed on the Bank;
2) Play advertisements / public information when placed on large-scale shopping mall ;
3) Play advertisements / public information when placed on the star-level hotel hall;
4) Play advertisements / public information when placed on metro station;
Used in different public areas, such as hospital, school, waiting hall etc.
Which size of standing LCD Advertising Display do you have?
At the moment, The screen size range of wall mounted lcd digital signage player includes:
42"/50"/55"/65"/75"/84"/98".
popular model in stock lcd screen size:42"/46"/55"
Why choose felehoo LCD Standing Advertising Display ?
1. Shortest time. We always try our best to respond your inquiry fastest, which is really very helpful for solving your problem at any time and get 5-star after-sale service;
2. Cost-effective. Felehoo not only provides good quality products, but also takes saving your
cost into first consideration to provide our most professional suggestion to help building and
maintaining our long-term business relationship;
3. Language advantages. All of our sales get very good English communication ability, they are all able to speak and type fluent English, guarantee smooth talking or Email communication, cooperate effectively with us;
4. Quality Guaranteed. All of our Felehoo products use top quality materials, finished products 1 year quality guaranteed;
5. Save your dollars. We cooperate with several very professional forwarders, for saving your shipping cost a lot, together with good price advertising player products.
6. Providing ability. 7~15 days manufacture time, fast leading time, best after-sale support;
7.OEM/ODM service. We have engineers, professional team for your OEM service requirements.
Customers who seen this item also seen