Case
15" led elevator digital signage player-slim 5mm 9:16 portrait
Felehoo new design professional elevator digital signage project for our domestic famous media company in china. Special design for vertical portrait display 9:16.It is a super slim metal casing with only 5mm thickness very light,tightly stick on any wall easily!
As you seen, silvery grey enclosure of digital signage player is as the same as elevator,This kind new design seems like a natural part of the internal elevator landscape rather than an alien invader.It could show 9:16 portrait(vertical)advertising to attract somebody standing on the front of its video show.No one's eyes could not see it.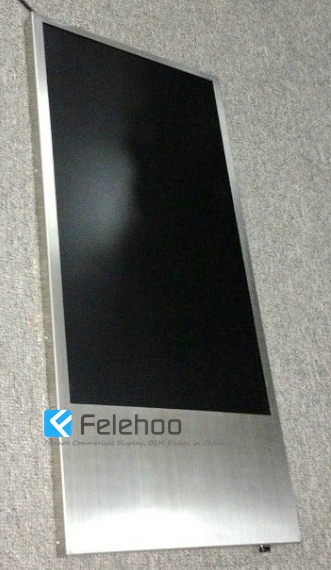 As above photo shown, the elevator digital signage is a LCD Display with an integral media player, Media files are stored and played back from USB or SD memory card.When you boot the machine up, it would auto read those files(video/photo) from memory card simple one. Plug-and-Play, that is, If you plug memory card into the card slot, the screen will auto display video or photo.
9:16/16:9 wide screen with Full view, stainless silvery grey enclosure as the same as elevator,we promised that you never can get this kind product from other supplier.One local large media company order more than 500pcs in every time for the new project, so we design the new enclosure module for this client. Now, we still have some spare elevator digital signage in stock at present. If you are interested in our this kind product, please do not hesitate to contact us.