Service Online

Skype Call Me!

What's App Now!

+86.13714833789

sales@felehoo.com
Product Details
Specifications
FAQ
Touch Screen Whiteboard
Extend your interactive capabilities with our LCD Interactive Whiteboard that combines a flexible pen-and-finger system with excellent ease of use. With a high-tech design, our interactive whiteboard provides flexible, reliable and instinctive interactive capabilities.
Simply extraordinary
Combining together the ease of a whiteboard with the power of a computer, our interactive whiteboard connects to your projector to display your desktop on the interactive whiteboard. You can regulate applications on the screen, write notes in digital ink and save your work to share later.
Get hands on with your material
Touch control makes everything simple and easy! With one touch of your finger, you can write, erase, move objects and control applications on the interactive whiteboard. You can also write with a pen and can erase with your palm easily. Also, you can move objects with your finger without having to press buttons, access on-screen menus or replace tools in the pen tray. Our touch screen whiteboard makes it all possible.
Save and share your work
With a collaborative learning software, which is included with all smart board interactive whiteboards, you can save all your screenshots, notes, images and videos to a single file that can be opened later. You can also reorganize, manipulate and reuse the notes and multimedia can be saved as objects. You can also save digital notes directly into several software applications such as Word, Excel, Adobe Acrobat, PowerPoint and AutoCAD software.
Mix it up with multimedia
Add flexibility to your curriculum by accessing multimedia resources and the Internet on our LCD Interactive Whiteboard. Explore a website or watch a video without ever leaving the screen. With the capability to interact with numerous multimedia content and file types, our whiteboard can help you develop more interest in your course material and capture your students' attention. Plus, the interactivity doesn't end with you only, this is easy enough for your students to use right away, too.
Built-in Camera and TV box Solution (Optional)
D525 Solution

I3 Solution

I5 Solution (Default)

I7 Solution
CPU

D525 (1.8Ghz)

I3 2100 (3.1Ghz)

I5 2300 (2.8Ghz)

I7 2600 (3.4Ghz)

RAM

2GB

4GB

4GB

8GB

Graphic

Nvidia GT218

Integrated

Integrated

Integrated

HDD
1TB SATA HDD (or 240G SSD)
LAN

10/100/1000M Auto-adjust Gigabit Ethernet included

WIFI

150Mbps 802.11b/g/n

included

Audio

HD 8(7.1) Channel Audio System

Speaker

2 x Built-in High Quality Stereo Speakers

I/O Ports

4 x USB Ports included

TV tuner,HDMI,DVI,VGA in/out ports

Other

Options

DVD-RW, Mouse/Keyboard Set, Webcam,

Thermal Printer, Bluetooth, Wheels
Education Writing Software Features (Free)
Mouse Function

Easy Switch of between Mouse and Pen function. And with Right Mouse button function.

Mark Function

Compatible with Microsoft Office such as PPT, WORD and EXCEL, permissible for the pen to mark on the board at will, and in line with any application software for such action besides copy performance.

Writing Function

Permissible for writing by diverse pen-type and line-type hard-pens, spread-pens and highlighters.

Layout Function

Supports creating white board, black board, backdrop layout and desktop layout. Also supports boundless full-screen writing.

Zoom Function

Supports zoom-in and zoom-out for displayed images

Editing Function

Supports copy, delete, move and other editing functions.

Searchlight Function

Supports searchlight's moving, changeover of shapes and colors.

Diffusion Screen Function

Supports diffusion-screen's moving from one location to another (left-right, up-down).

Resource Bank Function

Supports open resource bank, users can add or delete the bank contents optionally.

Multimedia Introduction Function

Supports introduction of diverse files such Flash, PPT, Movie and Music and so on.

Multimedia Documentation Function

Permissible to save sound and written-contents into multimedia file

types, and supportable to copy, replay and others then.

Camera Function

Supports camera function to facilitate teaching.

Photo Edit Function

Powerful Photo edit tools and effection

Flash Production Function

Make the flash by yourself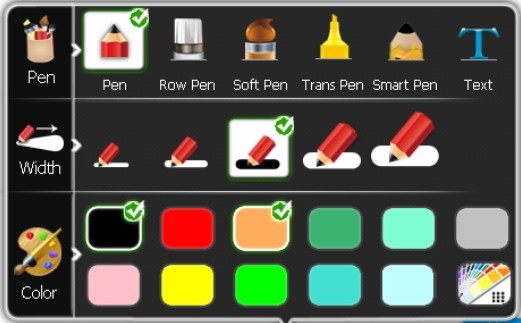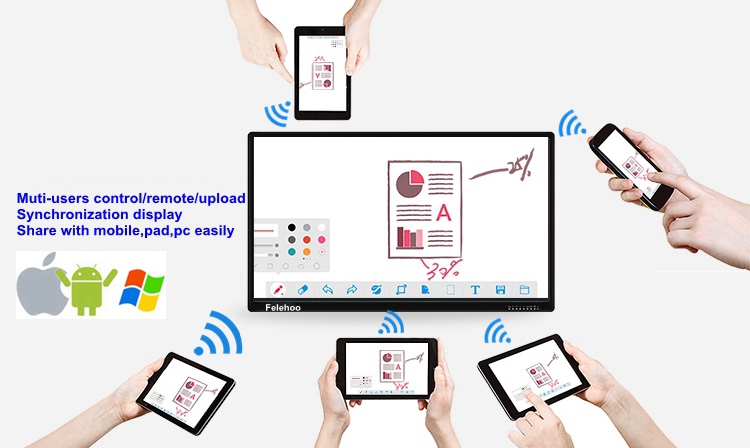 Felehoo WIFI Wireless system that allows wireless connection for presentation in meeting board.
It allows a wireless connection from different and simultaneous sources, mobiles (android, iOS, windows), laptops (Windows, iOS)
Meeting management: Allows the control the amount of simultaneous devices conected to collaborative work
Security:password protection and must be authorized by the administrator to participate in the presentation.
Modules and funtionalities: Funtionality to write in the lcd screen
Connectivity: Wireless, minimum 5 independent connections,no limited if use 5G wifi router
Compatibility: Windows, Ios, Windows Mobile, Android
Output Resolution: 2560 x 1600 at 30 Hz or 1920 x 1080 at 60 Hz con HDCP
MTBF: > 50000 hours
Audio: Output to speakers connection
1,the specification of 55 inch TFT LED Screen Panel
Screen size

55 inch

Aspect ration

16 : 9

Display area(mm)

1214mm(W) X 684mm(H)

Dot Pitch(mm)

0.60(H)×0.60(V)

Max Resolution

1920 X 1080

Number of colors

16.7M (8-bit)

Brightness

500cd/

m

2

Contrast

2000:1

Viewing angle

178°/178°/178°/178°

Lifetime of screen

60000hrs
2,the specification of touchscreen Panel:
| | |
| --- | --- |
| Touch Max Resolution | 4096×4096 |
| Transparency | >90%, Up to 100% |
| Scanning Speed | >50s cans/S |
| Response speed | <12m |
| Touch type | Vertical Multiple Dot Touch screen |
| Touch precision | 0.625mm |
| Min Touch object | <5m |
| Touch Intensity | Over 60,000,000 Single Point Touch |
| Operation System | Windows 7 OS or 10 Pro |
| Operating Voltage | DC, 5V 5% |
| Power Supply | Keyboard Serial Interface |
| Power | <1W (Current < 200mA) |
| Communication | RS-232 interface Port, USB port |
| Vandal-Proof | Steel Ball (Diameter 63.5mm 1040g weight ) drop from 1040mm,No break |
| Temperature Operating | -41~70 |
| Temperature Storage | -50~85 |
| Altitude | 3000m |
| Noise | None |
| Life Time | >10 Year |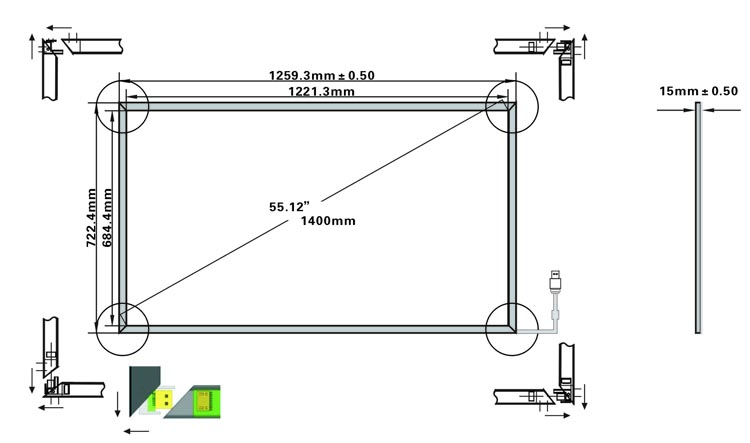 1. Q:How can you guarantee the quality of this Products?
A: Felehoo factory have over 12 years produce experience.All of the products are professional, high quality, artistic design and competitive price. We also offer professional technology and after-sale severs.
---
2.Q:Why is your price some time a little more expensive than others?
A:Yep, Felehoo use 100% Original A+ Grade TFT Screen and chips ,good material. Ensure that it more stability, and check the products attentively.If you still tell me that just need the cheapest price and don't care any quality. Ok, tell us.But then we are not for the poor quality of responsible.
---
3.Q:Everybody say it's good quality, so how to prove, how can I trust one and who can I trust?
A:We are never hope to do just one business,we are prefer to a long-term cooperation.I know you also don't like change different suppliers,you are looking for the honest supplier. Maybe I can't promise you that is the cheapest price in global, but i can tell you we try our best to offer you the best price to make you always WIN customers and electronic field!So we are very glad to if you are sincerely want to buy. Felehoo factory have the confidence to do your fixed suppliers.
So let me know your target price and which product you need for so that I can recommend the appropriate type for you, and I will do my utmost to offer you a perfect order. thank your trust!
---
4,Q: what is HS code for your Touchscreen whiteboard?
A: 84714190 for Touchscreen whiteboard include touch screen and computer.
---
5, Q: what color can we choose ?
A: Our standard color is black or silver, but you can customize other colors.
---
6,Q: How long you can finish the machine?
A: For the sample order, we can finish the production within 10 working days, If we have it in stock, we can send you the sample within 3 days after received your payment.
---
7, Q: How long is your warranty ? And what's the detail content ?
A: One year warranty from the shipping date. And it is ok upgrade to two or three years guarantee with addition cost
Under guarantee : Free spare parts shipping, after checking by pictures and videos, if we confirm the damage not caused by human, we will ship spare parts to do the replacement.
Out of guarantee : we offer repairing parts at lower cost, and service in charge.
---
8,Q: Which size of Touchscreen whiteboard do you have?
A: At the moment, The screen size range of Touchscreen whiteboard includes:
32"/42"/47"/55"/60"/65"/70"/75"/80"/84"/98"
---
9,Q : Why choose felehoo Touchscreen whiteboard ?
1). Shortest time. We always try our best to respond your inquiry fastest, which is really very helpful for solving your problem at any time and get 5-star after-sale service;
2). Cost-effective. Felehoo not only provides good quality products, but also takes saving your cost into first consideration to provide our most professional suggestion to help building and maintaining our long-term business relationship;
3). Language advantages. All of our sales get very good English communication ability, they are all able to speak and type fluent English, guarantee smooth talking or Email communication, cooperate effectively with us;
4). Quality Guaranteed. All of our Felehoo products use top quality materials, finished products 1 year quality guaranteed;
5). Save your dollars. We cooperate with several very professional forwarders, for saving your shipping cost a lot, together with good price advertising player products.
6). Providing ability. 7~15 days manufacture time, fast leading time, best after-sale support;
7).OEM/ODM service. We have engineers, professional team for your OEM service requirements.
We can always design the product as your wish.
---
10. Q : what payment can you accept ?
A : T/T, western union ,Paypal for payment terms.
For Bulk orders : 30% deposit in advance to start the production,balance payment clear before the delivery.
Customers who seen this item also seen