Service Online

Skype Call Me!

What's App Now!

+86.13714833789

sales@felehoo.com
Product Details
Specifications
FAQ
Interactive touch table using capacitive touch is to simplify people's actions on the computer generated, it is the largest application which is matched with the touch screen and associated software package outside of a product to the query uses bundled together. It can be obtained by a computer screen by tapping the appropriate information, it brings to the computer's operation is completely locked in on a computer screen, no keyboard and mouse, safe, reliable, and does not affect the operation of the user's operating system.
Interactive touch table is a capacitive touch screen and related software package for query purposes other than adding a touch of products bundled together. Interactive touch table will truly touch and control into one role, greatly improving the people's work efficiency. Interactive touch table as an input device, which uses a touch screen with a durable, fast response, space-saving, easy-to-many advantages exchanges. Users simply use your fingers to gently touch screen machines can quickly get the information they want, thus making the interaction more straightforward machine. It is also a positioning device, the user can manually enter the coordinates information directly to a computer. It uses mouse, keyboard as an input device. This technique greatly facilitates the users who do not understand the computer operation. As a high-tech machine, interactive touch table has gradually replaced the simple touch screen, allowing users to truly feel the human-computer interaction can be freely characteristics.
Interactive touch table is suitable for multi-grade class on a high-end atmosphere occasions, such as showrooms, customers can experience the intuitive touch technology; general manager's office, either replace the old-fashioned coffee table, they can sit down and play the game.
Touch Features:
1. Safety and robust:
Anti-scratch, laminate on the back of glass Waterproof, dust-proof, bullet-proof, Acid-proof, No expose components, safety. No mechanical components with long life Industrial temperature range: –20 °C to + 60 °C
2. Art and Sci-Fi:
High transparency :97%, glass-level transparency No bezel of touch area Thin and light, the sensor thickness only 0.17mm Thru-glass touch, the maximum thickness of glass can reach 20mm. Only hands valid, no touch action of metal, plastic, and so on.
3. Excellent experience:
Zero pressure touch, even with glove. Mouse function with Zoom in/out and rotation. 2 points Multi-touch, Support TUIO & Windows Native multipoint port precise touch & real-time response Rapid handwriting performance
4. Advanced features:
Low power consumption, the maximum power consumption is only 0.5w
Flexible, could be applied to curve surface touch screen. The film sensor could be laminated on any smooth non-metallic flat various size.
5. Excellent quality:
Durability Scratch-free: More than 60,000,000 touch times in one location without failure
Surface hardness: Mohs' hardness rating of 7
Touch medium: finger, gloved finger, rubber soft pen etc.
Relative Humidity: Operating Range: 0%~90% RH (no dew falls);StorageRange: 0% to 95% RH (no dew falls)
Ambient Light: Direct sunlight 90°to ±30° to the display surface Touch detection operational; direct sunlight all angles to display surface Free of false touch reports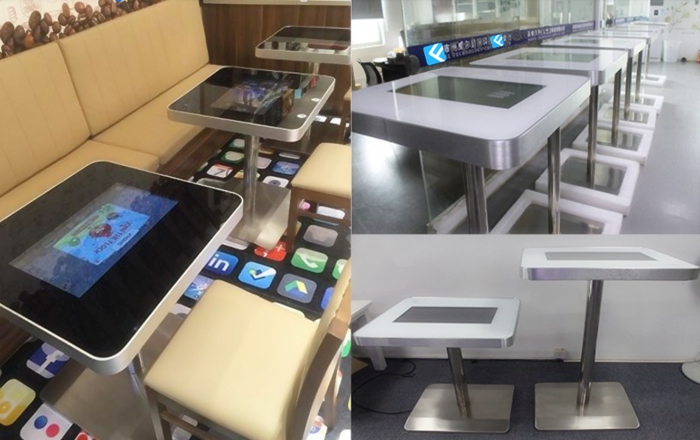 ---
Application:
Business Organizations: supermarket, large-scale shopping malls, exclusive agency, chain shops, large-scale sales, star-rated hotels, restaurants, travel agencies, pharmacy.

Financial Organizations: Banks, negotiable securities, funds, insurance companies, pawnshops;

Non-profit Organizations:Telecommunications, post offices, hospital, schools;

Public Places: subway, airports, stations, gas stations, toll stations, bookstores, parks, exhibition halls, stadiums, museums, convention centers, ticket agencies, HR market, lottery centers;

Real Estate Property: Apartments, villas, offices, commercial buildings, model rooms, property brokers;

Entertainments:Movie theaters, fitness halls, country clubs, clubs, massage rooms, bars, cafes, Internet bars, beauty shops, golf course.
LCD Display

LCD Size

22" (16:9)

Panel Brand

LG / Samsung / AUO

Resolution

1920*1080

View Angle

178 degree(H):178 degree(V)

Brightness

450cd/m2

Contrast Ratio

1200:1

Response Time

4ms

Color

16.7M

Scan Frequency

50-60Hz

Back Light

CCFL LED

Display Output

USBHDMI

Color System

PAL/NTSC

Speaker

Stereo Audio Output 2*10W

Input

HDMI/USB*2/CVBS

Touch screen

Touch points

10 points(Optional)

Touch surface

Ultra thin tempered glass, transmittance 95% above

Touch Resolution

4K

Life

Single touch more than 60,000,000 times

Touch object

Any Opaque light object

Response

<10ms

Light resistance

>100000LUX

Water proof grade

IP65

OS

Android 4.2.2 (Optional Windows)

Software support

All Apps Support Android

Driver

Support OEM

Computer

Solution

CPU

Cortex-A8 / 1.5 GHZ

External ROM

Support 32GB

DDR

DDR3 1G

ROM

NAND FLASH 4G

Audio

Realtek ALC887

Internet

Ethernet RJ-45,WiFi 802.11b/g/n support 300M(3G/4G/Bluetooth optional)

I/O

4*USB2.02*USB3.0 1*HDMI1*WAN1*VGA1

Power

Work power

AC 110-220V

Environment

Working Temperature

0?—45?

Relative Humidity

20%-80%RH

Storage Temperature

-20?—60?

Storage Humidity

10%-75%RH

Volume Weight

30KG

Material

3mm steel,aluminum edge,6mm tempered glass surface
(Optional) Built-in Windows PC Solution
D525 Solution

I3 Solution (Default)

I5 Solution

I7 Solution

CPU

D525 (1.8Ghz)
I3 2100 (1.8Ghz)
I5 2300 (2.8Ghz)
I7 2600 (3.4Ghz)

RAM

2GB
4GB
4GB
8GB

Graphic

Nvidia GT218
Integrated
Integrated
Integrated

HDD

2.5 inch 500GB SATA HDD ( or 128GB SSD )

LAN

10/100/1000M Auto-adjust Gigabit Ethernet included

WIFI

150Mbps 802.11b/g/n included

Audio

HD 8(7.1) Channel Audio System

Speaker

2 x Built-in High Quality Stereo Speakers

I/O Ports

4 x USB Ports included

(HDMI,DVI,VGA in/out ports optional)

Other

Options

DVD-RW, Mouse/Keyboard Set, Webcam,

Thermal Printer, Bluetooth, TV tuner, Wheels,IC/ID Card reader
1. Q:How can you guarantee the quality of this Products?
A: Felehoo factory have over 12 years produce experience.All of the products are professional, high quality, artistic design and competitive price. We also offer professional technology and after-sale severs.
---
2.Q:Why is your price some time a little more expensive than others?
A:Yep, Felehoo use 100% Original A+ Grade TFT Screen and chips ,good material. Ensure that it more stability, and check the products attentively.If you still tell me that just need the cheapest price and don't care any quality. Ok, tell us.But then we are not for the poor quality of responsible.
---
3.Q:Everybody say it's good quality, so how to prove, how can I trust one and who can I trust?
A:We are never hope to do just one business,we are prefer to a long-term cooperation.I know you also don't like change different suppliers,you are looking for the honest supplier. Maybe I can't promise you that is the cheapest price in global, but i can tell you we try our best to offer you the best price to make you always WIN customers and electronic field!So we are very glad to if you are sincerely want to buy. Felehoo factory have the confidence to do your fixed suppliers.
So let me know your target price and which product you need for so that I can recommend the appropriate type for you, and I will do my utmost to offer you a perfect order. thank your trust!
---
4,Q: what is HS code for your Touchscreen table?
A: 84714190 for Touchscreen table.
---
5, Q: what color can we choose ?
A: Our standard color is black or silver, but you can customize other colors.
---
6,Q: How long you can finish the machine?
A: For the sample order, we can finish the production within 10 working days, If we have it in stock, we can send you the sample within 3 days after received your payment.
---
7, Q: How long is your warranty ? And what's the detail content ?
A: One year warranty from the shipping date. And it is ok upgrade to two or three years guarantee with addition cost
Under guarantee : Free spare parts shipping, after checking by pictures and videos, if we confirm the damage not caused by human, we will ship spare parts to do the replacement.
Out of guarantee : we offer repairing parts at lower cost, and service in charge.
---
8,Q: Which size of Touch screen table do you have?
A: At the moment, The screen size range of wall mount Touchscreen PC includes: 22"/
32"/42"/47"/55"/65"/75"/84"
---
9,Q : Why choose felehoo Touch screen table ?
1). Shortest time. We always try our best to respond your inquiry fastest, which is really very helpful for solving your problem at any time and get 5-star after-sale service;
2). Cost-effective. Felehoo not only provides good quality products, but also takes saving your cost into first consideration to provide our most professional suggestion to help building and maintaining our long-term business relationship;
3). Language advantages. All of our sales get very good English communication ability, they are all able to speak and type fluent English, guarantee smooth talking or Email communication, cooperate effectively with us;
4). Quality Guaranteed. All of our Felehoo products use top quality materials, finished products 1 year quality guaranteed;
5). Save your dollars. We cooperate with several very professional forwarders, for saving your shipping cost a lot, together with good price advertising player products.
6). Providing ability. 7~15 days manufacture time for QTY, fast leading time, best after-sale support;
7).OEM/ODM service. We have engineers, professional team for your OEM service requirements.
We can always design the product as your wish.
---
10.Q : what payment can you accept ?
A : T/T, western union ,Paypal for payment terms.
For Bulk orders : 30% deposit in advance to start the production,balance payment clear before the delivery.
Customers who seen this item also seen