Service Online

Skype Call Me!

What's App Now!

+86.13714833789

sales@felehoo.com
Product Details
Specifications
FAQ
To build a high-tech experience area to involve retail visitors and enable them to discover your products and services at their own place. Interactive kiosks are the best alternatives of flyers and brochures with on-demand printing or user-controlled or allow visitors to email themselves the information whenever they want. Queue management, event-based online activities, employee directories, wayfinding and customer data collection, the functions our LCD Kiosk can serve is nearly endless.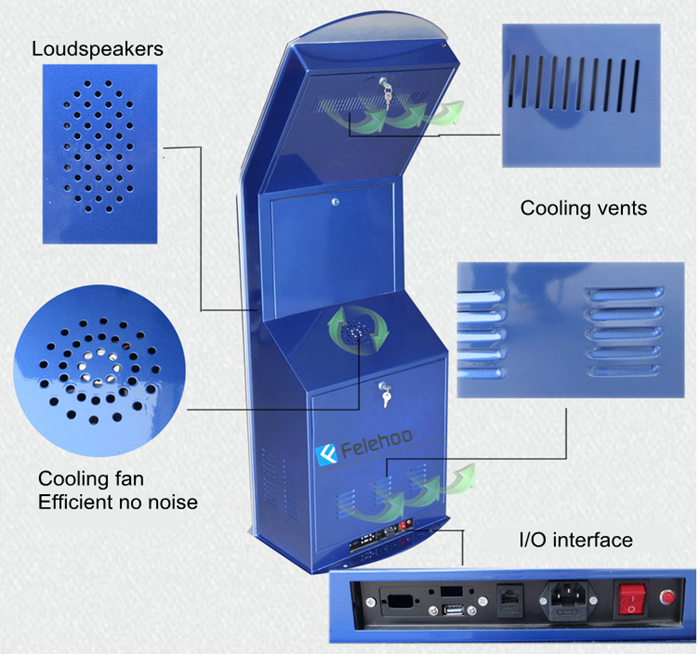 Custom Design
To coordinate with you to fulfill your needs, our creative team works hand-in-hand with each customer to design original, branded micro website experiences build. While kiosks aren't in use, our custom attractor loops play are positioned with eye-catching screensavers, so that the visitors can come and begin to interact. When you want to change promotions, your kiosk interface can be quickly reformed and immediately activated to show your new goals.
Design Options
Whether you pick an iPad tablet or large-format touchscreen, we provide an assortment of customizations to assist the location and purpose of your kiosk. In order to draw attention, you can add a mounted graphic to your kiosk and give it a branded appeal to fit your retail space.
Kiosk Management
Lock down the kiosk precisely to your custom presentation while marking certain domains or URLs to allow your users a broader web-enabled experience. Auto sleep and wake feature saves energy and makes maintenance hassle-free.
Remotely managed and completely web-based for easy updates
Advanced touch screen kiosks that are interactive computer systems are specially designed for public use. With only the necessary equipment exposed, items such as printers, switches, cooling systems and cables are hidden inside the kiosk enclosure. If you want to keep your computer safe from any internal or external system interfering, you can lock down all the websites.
All of LCD Kiosks house a full computer system with an attractive and energy effective design. You will find our Interactive Kiosks to be easy to navigate and user friendly. Every part of kiosk has been tested rigorously to ensure that you are receiving a durable, safe and efficient system.
Main features:
1. Beautiful figure: designed to delicate &artistic,streamlined shape, graceful and modernized, friendly interface, car surface treatment workmanship, color/size/shape optional;
2. Easy maintenance : Each function module is independent, easy to assemble and disassemble;
3. High extendibility: Function module design and flexible configuration enables our kiosk compatible for most of the IT accessories on the market;
4. Good safety: Antirust, antiabrasion baked varnish technology, overall anti-vandalism and steel construction all over;
5. High operation reliability: Special heat output system may maintain same temperature of the internal environment and the outside to provide more stable working condition for the computer and avoid malfunction;
6. Easy to use: Ready to use by plugging the power supply, no bother for assembling yourself.
Monitor size: 19"
Touch screen: Sound acoustic wave/Infrared;
Single point life: over 50million times, Max resolution 4096*4096
LCD: Industrial LCD display, Samsung/LG brands; Max resolution: 1280*1024
Enclosure:
* Material: Cold rolled plate, baked varnish surface;
* Color: Optional;
* Sound system: Internal magnetic Stereo amplifier, 2.2W amplifier board, 10W loudspeaker*2pcs;
* Heat output: Internal 12V fans to achieve better ventilation effect;
* Power supply: Input voltage AC 100-240V 50/60Hz; Inrush current 3A;
* Power: < 200W;
* Interface: RJ45 net port; External USB interface(optional);
* Switch: No need to open the kiosk panel, you may open or shut down the computer via the external reset button
Optional parts:
You can choose to add some accessories on the kiosk if you need as follows,
1.Bluetooth Connection
2.Ticket Printer: Epson 80MM thermal printer with auto cutter
3.Card Reader: IC card reader/magnetic card reader/RFID card reader etc
4.Metal Keybaord with trackball,stainless steel,waterproof,encrypted
5.Cash Acceptor: accepts multi-currency cash/note
6.Coin Acceptor: accepts multi-currency coin
7.Webcamera
8.Barcode Scanner: 1D,2D
9.Wireless WIFI,GPRS etc
Working environment: Temperature: 0~45°C; relative Humidity: 30%-90%
Application:
1)Business Organizations:
Supermarket, large-scale shopping malls, exclusive agency, chain shops, large-scale sales, star-rated hotels, restaurants, travel agencies, pharmacy.
2)Financial Organizations:
Banks, negotiable securities, funds, insurance companies, pawnshops;
3)Non-profit Organizations:
Telecommunications, post offices, hospital, schools;
4)Public Places:
Subway, airports, stations, gas stations, toll stations, bookstores, parks, exhibition halls, stadiums, museums, convention centers, ticket agencies, HR market, lottery centers;
5)Real Estate Property: Apartments, villas, offices, commercial buildings, model rooms, property brokers;
6)Entertainments:
Movie theaters, fitness halls, country clubs, clubs, massage rooms, bars, cafes, Internet bars, beauty shops, golf course.
All the kiosk have optional configuration,we have some below for reference.
Tell us if you have better suggestion.
The advantage of our company :
1.We have our own factory to make sure the quality and the supply ability
2.We have our own R&D team to meet any of your requirements
3.10 years' experience in this field
4.Perfect and perfessional after-sales service
Optional Screen Size:
Optional Mini PC configuration: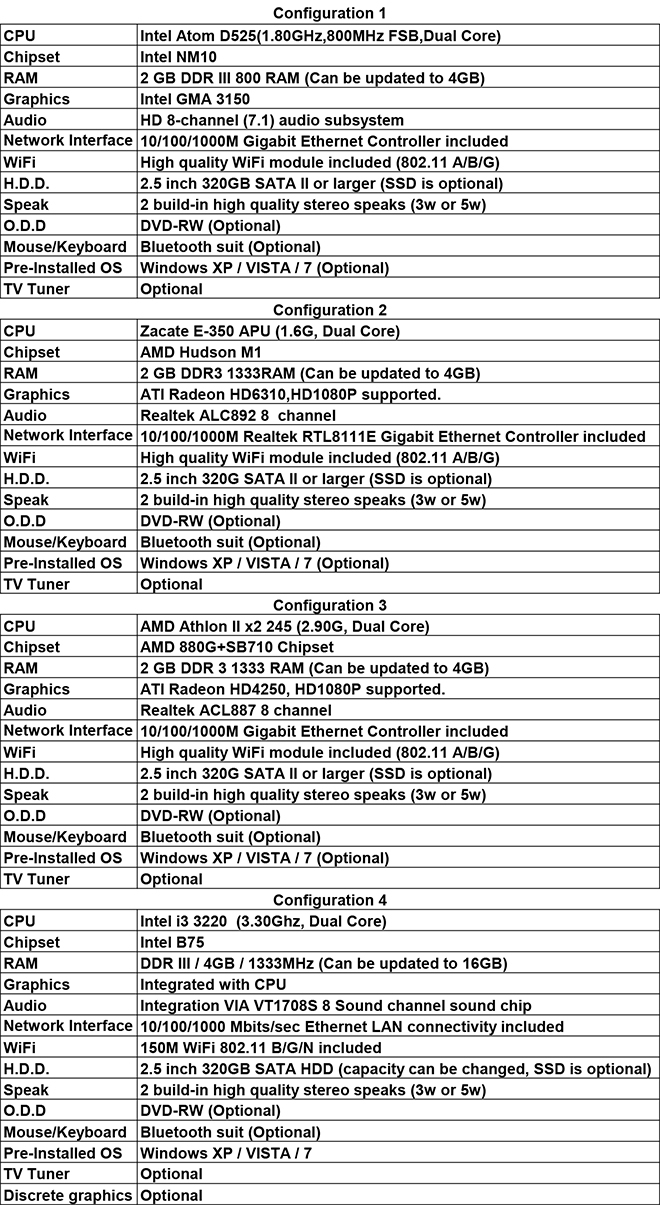 Q1: If i want to buy only 1 sample,could you sell?
A: Yes,we have some popular models are on sale,we will check which one is in stock,then sell it to you.Very fast delivery.
Q2: How is your shipping?
A:As the heavy kiosk we suggest the shipment by air to airport (fast 5-6days)or by sea (slow 25-35days).If you are not convenient with 1 sample,shipment by Express to door is best (expensive than by air freight)
We offer all kinds of logistics methods in favor of our world wide clients. Shipping from Shenzhen to each corner of the world by sea, airlines to the nearest seaport, or combined sea+land directly to your facility. We also have good relationship with major courier companies DHL, TNT, Fedex, UPS which enables us to deliver our products quickly and safely to your hand.
Q3: How is your packing?
Four layer safe packing: bubble foam, PE boards, carton, wooden case
Customers who seen this item also seen