Service Online

Skype Call Me!

What's App Now!

+86.13714833789

sales@felehoo.com
Product Details
Specifications
FAQ
· DC 6V – 36V power
· Can update content through USB
· No more shock for the user or scratches on the screen
· Can be installed through mounted ceiling
· Full Perspective/ High Brightness Screen
· The function of playlist or advertising spots is optional.
· Built-in Power Amplifier(Support 300W outside horn)
· Free Editor rolling subtitle/ Capture Logo/ Break power memory
Product Details
So have you seen the colorful screens hanging in the buses, trains, metro stations, etc. which keeps on playing advertisements, news or different kind of media. Well, those screens are called as Bus advertising player which includes LCD advertising screen and few cables.
22 inch-bus advertising player (FH-BU220A) is basically an LCD Display screen with USB and memory card feature along with integral media player. The media files can be stored in the memory of the screen or can be played with the help of USB as well as memory card too. It is a kind of plug and play product where as soon as you plug the system, it will automatically read the stored files and will start playing them in the saved sequence.
Now let's introduce to the functions of this LCD advertising player:
· How to Update Ads: By manually copying from USB.
· Plug-and-Play: No Need to select. Auto play as soon as the power is on.
· Playback Mode: Either repeat one or all the files saved in the memory by selecting the option.
· Daily timer switch: the timer switch can enable the feature of auto on and off of the screen at the designated time on daily basis.
· Play logs: all the play records are generated in a detailed manner in the memory card.
· Photo slide show: One can easily adjust the interval time for the slide show of photographs, if any, 5s/10s/15s/30s/45s/60s/120s/180s/250s.
· Date-Time Display: set the date and time once and the screen will display it on regular basis without any need of updating, due to built-in clock and calendar feature.
· Scrolling marquee: One can easily set the speed of scrolling the marquee along with the background color, font size, etc.
· Timing function: In a day you can set around five sets of timing period which needs to be managed once a week. Don't have to adjust or re-adjust the timings all day long.
· DIY Boot Screen: There is no rule on setting the boot screen, you can make use of any video capture or JPEG as a boot screen.
· Logo Display: You can promote yourself by showing your logo on the upper left-hand corner of the screen. The logo can be of size 240X240 pixel in JPEG format and will be shown all the time.
· Playlist Function: Along with the player we can also offer a playlist software, where you can play all those ads in the sequence you have saved and can edit it too.
· Advertising spots: you can create advertising spots for your company in between te ads being played on the screen using the time interval method.
· Split-screen: No need to show one screen at a time, you can easily split into 2 or 3 or more split screens, as per your needs.
· Breakpoint memory: The machine automatically saves the data in case of breaking and will resume the playing when it is good to go.
· Time Volume: Everything is automated in this LCD advertising player, even the volume control can be set according to the day or time of the day. For e.g. High volume on weekends and a bit notch down on the regular days.
· Anti-theft lock: There is an anti-theft lock which will prevent the chances of broadcast content as well as the disk from theft and the content can be saved in the encrypted format too.
· Scratch-resistant: No more worries about scratches on the LCD screen, due to extra acrylic protection layer on the screen along with ultra-thin, high-transparency toughened glass.
· Installation: Easy to install with the help of mount on the ceiling, an optional mount on the back is also available.
Application
Bus, vehicle, coach, taxi, car, Train, Metro station etc.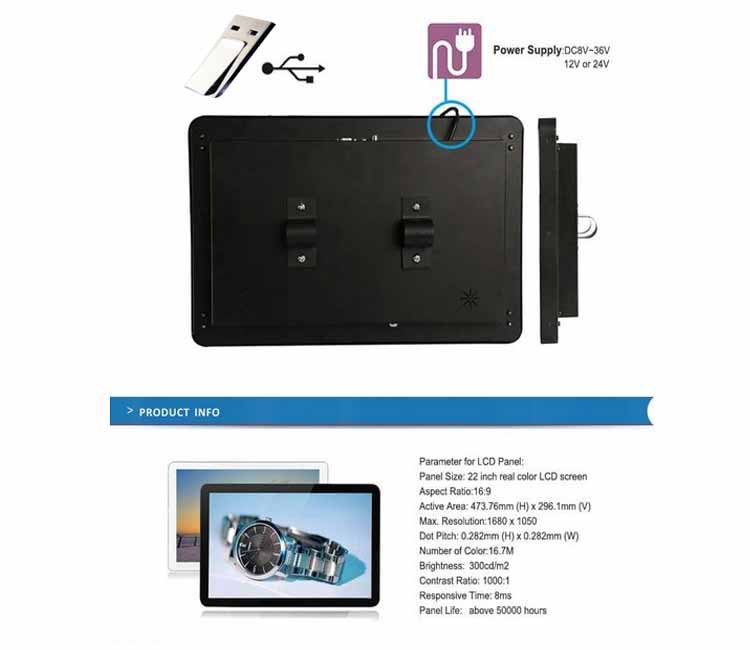 Product model

FH-BU220A

Screen Panel Size

22"




Backlight type

LED

Brand

Felehoo

Aspect ratio

16 : 9

Resolution

1680 X 1050

Visible Area(mm)

475 X 296

Dot Pich

0.282(H) X 0.282(V)

Brightness

450cd/

m2

Viewing Angle

89/89/89/89

Contrast Ratio

500:1

Number of colors

16.7M

Response

Time

8ms

Input Voltage

DC 6~36V

Power Consumption

72W

Audio O

utput

Built-in

power amplifier(support 300W outside horn)

Life

60,000hrs

Dimension(mm)

526X349X55

Net weight

7kg

Installation

Top Ceiling mounted (Optional wall mount bracket)

Input card slot

2 X USB2.0

Storage Media

Default USB (SD card is optional)

Download Media

Auto copy from USB

OSD Language

Chinese,English (French,Russian,German,Italian,Spanish,Japanese)

.

Display Effect

Support 720P/1080P Full HD Video/Picture Display

Support

Video F

ormats

AVI,MPEG1,MPEG2,MPEG4,VOB and DIVX(5.0/6.0)

Support

Audio Formats

MP3

Support

Photo Formats

JPG

Support Documents F

ormats

TXT

Operating system

Plug-and-Play / No windows OS, Auto loop play when power on.
Design Drawing as follows:
What is Bus Advertising Screen?
Bus Advertising Screen is a form of electronic display that shows information, advertising and other message on bus.Advertising using digital signage system is a form of out of home advertising in which content and messages are displayed on bus advertising screen with a common goal of delivering targeted messages.
What benefits you get of using advertising screen as marketing tools ?
1, Use advertising screen to your advantage by having your customers promote your company.
2,Your customers share your products promotion information.
3,Strengthen your brands image
4,Increase in-store and online traffic via word of mouth advertising.
5,Increase customer loyalty.
6,Use your advertising screen as advertising to promote brands and drive new additional revenues for your business.
Advertising screen is the way forward for customer communications in the 21st Century.
Advertising screen allow you to get your message to your customers at exactly the point where they are most likely to make purchasing decisions, at precisely the most effective time in their shopping experience. So your profits go up as your costs go down!
And advertising screen can make your communications more efficient, deliver a return on investment and make for a better customer experience.
Where bus advertising screen can be used?
Bus advertising screen are perfect digital advertising display on bus or train where you want to display your digital advertisements repeatedly, and don't require changing / updating your advertisements content frequently.
Bus advertising screen can be used for, but not limited to, the following purposes:
1) Play private wealth management products advertisements when placed on train;
2) Play advertisements / public information when placed on bus ;
3) Play advertisements / public information when placed on car;
4) Play advertisements / public information when placed on metro station;
Which size of bus advertising screen do you have?
At the moment, The screen size range of bus advertising screen includes: 15"/17"/19"/22"/26"/32".
Why choose felehoo bus advertising screen ?
1. Shortest time. We always try our best to respond your inquiry fastest, which is really very helpful for solving your problem at any time and get 5-star after-sale service;
2. Cost-effective. Felehoo not only provides good quality products, but also takes saving your cost into first consideration to provide our most professional suggestion to help building and maintaining our long-term business relationship;
3. Language advantages. All of our sales get very good English communication ability, they are all able to speak and type fluent English, guarantee smooth talking or Email communication, cooperate effectively with us;
4. Quality Guaranteed. All of our Felehoo products use top quality materials, finished products 1 year quality guaranteed;
5. Save your dollars. We cooperate with several very professional forwarders, for saving your shipping cost a lot, together with good price advertising player products.
6. Providing ability. 7~15 days manufacture time, fast leading time, best after-sale support;
7.OEM/ODM service. We have engineers, professional team for your OEM service requirements.
We can always design the product as your wish.
Customers who seen this item also seen