Service Online

Skype Call Me!

What's App Now!

+86.13714833789

sales@felehoo.com
Product Details
Specifications
FAQ
This product you see is a small size digital screen with a still picture that has a sensor in it that, The sensor can be triggered when someone come to the magic mirror advertising player's motion sensor area within 50cm, the display screen can be used as a mirror without any photo, However, once the person is away from the sensor, the display will again play a full screen video or photo.
---
The product with 2 USB2.0 input ports in the screen one playing still photos and one playing the video when the sensor is triggered.
---
Motion sensor-switch on when some body is in front of the display and switch off, when leaves, Motion sensor can be switchable.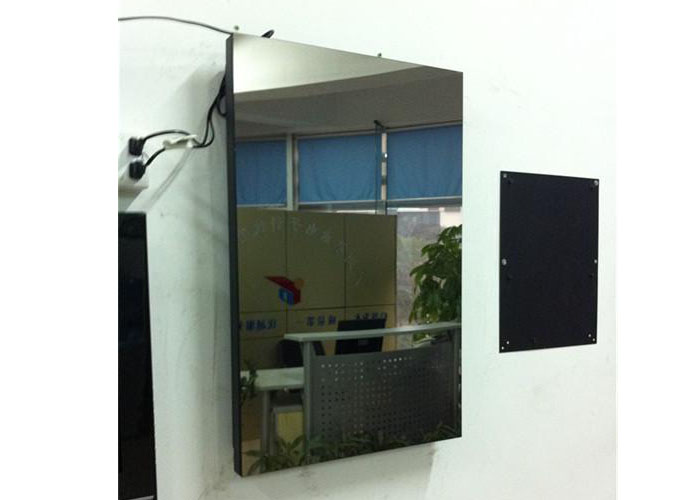 Product model

FH-MU171C

Screen Panel Size

17.1"

Backlight type

LED

Brand

Felehoo

Aspect ratio

9 : 16

Resolution

1024 X 1280

Visible Area(mm)

270 X 338

Dot Pich

0.264(H) X 0.264(V)

Brightness

350cd/

?

Viewing Angle

80/80/80/80

Contrast Ratio

500:1

Number of colors

16.7M

Response

Time

8ms

Input Voltage

AC 100~240V

Power Consumption

40W

Audio O

utput

Built-in min speaker ( 2 x 5w)

Life

60,000hrs

Dimension(mm)

397X533X38

Net weight

6kg

Installation

Wall mounted

Input card slot

2 X USB2.0

(HDMI/VGA is optional)

Storage Media

Default USB (SD card is optional)

Download Media

Auto copy from USB

OSD Language

Chinese,English,French,Russian,German,Italian,Spanish,Japanese

etc.

Display Effect

Support 720P/1080P Full HD Video/Picture Display

Support

Video F

ormats

AVI,MPEG1,MPEG2,MPEG4,VOB and DIVX(5.0/6.0)

Support

Audio Formats

MP3

Support

Photo Formats

JPG

Support Documents F

ormats

TXT

Operating system

Plug-and-Play / No windows OS, Auto loop play when power on.
What is Magic Mirror Display ?
Magic Mirror Display refers to a variety of technologies used to replace traditional retail signs. Instead of static print signs and billboards, Magic Mirror Display is composed of electronic signs dispersing content and messages in the most targeted, interactive way.It is very funny that not only the product can be used as a mirror, but also a media advertising Display.It is a small size digital screen with a still picture that has a sensor in it that when someone come to the magic mirror advertising player's motion sensor area within 50cm, the sensor can be triggered, and then the display screen shrink into a small square and emigrate to the right corner,the rest screen can be used as a mirror. However, once the person is away from the sensor, the display will again revert into a full screen still picture.
---
What are Magic Mirror Display? How does it use? Magic Mirror Display for the media player, advertising products feature ultra-thin stylish lightweight design; perfect advertising control; powerful multimedia format support capabilities; high-quality TFT LCD screen, wide viewing angle, high brightness, audio and video data cycle Play; wide range of uses,senstive sensors, can be used for families, companies, supermarkets, shop in shop, bathroom, bar: automatic daily startup, shutdown, all year round without artificial maintenance; back with security anti-theft devices, directly fixed on the shelf on; vibration level high.
---
What are the main features of your Magic Mirror Display ?
They are multimedia players integrated with different sizes of LCD screen.they process date from memory card or USB flash drive to play or automatically replay advertising video ,photo and music, they are mainly used as advertising player in Bathroom. The machine is not only a media Player, but also a Mirror.
---
What can i use it play for ?
Public information / play advertisement
---
The Digital Sign Network:
Creating a digital signage system involves building a network of electronic devices that are controlled remotely from a central location. These devices present information via digital signage software to a targeted audience. Digital signage devices in the network may be plasma or LCD monitors, kiosks, projection displays, HDTVs or other electronic devices.
---
Benefits of Magic Mirror Display:
Using Magic Mirror Display in a retail environment has many features and benefits not offered by static displays and signage. Dynamic digital signage can grab a customer's attention and influence their purchasing decision right at the point of purchase. It also eliminates the high cost of creating and distributing print ad campaigns. Magic Mirror Display is instant and offers the ability to change promotions immediately for various products or particular customers. Another advantage of digital displays over static is that retailers can earn money with their digital signage network by selling advertising space to their suppliers.
---
Whether it is intended to build a brand, influence customer behavior or simply provide information, the dynamic visual experience created by digital signage should ultimately increase sales. In order to achieve that goal, retailers will need to design the appropriate system.
---
Using Magic Mirror Digital Signage: Magic Mirror Digital signage software and hardware can be quite expensive and therefore would require serious planning to justify the retailer's return on investment. Other considerations include deciding where the electronic devices will be located and what sign software package to use. Retailers also have choices in network connectivity and should understand the different distribution options available before building a network of in-store digital signage.
---
Why choose felehoo Magic Mirror Digital Signage ?
1. Shortest time. We always try our best to respond your inquiry fastest, which is really very helpful for solving your problem at any time and get 5-star after-sale service;
2. Cost-effective. Felehoo not only provides good quality products, but also takes saving your
cost into first consideration to provide our most professional suggestion to help building and
maintaining our long-term business relationship;
3. Language advantages. All of our sales get very good English communication ability, they are all able to speak and type fluent English, guarantee smooth talking or Email communication, cooperate effectively with us;
4. Quality Guaranteed. All of our Felehoo products use top quality materials, finished products 1 year quality guaranteed;
5. Save your dollars. We cooperate with several very professional forwarders, for saving your shipping cost a lot, together with good price advertising player products.
6. Providing ability. 7~15 days manufacture time, fast leading time, best after-sale support;
7.OEM/ODM service. We have engineers, professional team for your OEM service requirements.
We can always design the product as your wish.
Customers who seen this item also seen